Let your
Business
b(l)oom
A win for the planet
and your company
Click To Tree? It's simple. For every click on your online advertisement, we plant 1 m² forest. A win for you and the planet. Discover how you can make a difference together with Click To Tree.

How it works exactly?
Simple.
Planet
We plant forests to mitigate climate change and promote biodiversity.
Improve air quality
Promote biodiversity
Create employment
Company
In return, you get more online visibility and more leads.
Give your brand a lift
Generate more leads
Have your ad placed above your competitor's
With Click To Tree, you can contribute to a better future without major investments.
Our b(l)ooming partners
Click To Tree is an initiative of digital marketing agency OMcollective
and many dedicated partners. Because together we are stronger.
What does Click To Tree do?
Gaining online visibility for your business is incredibly important inthis digital era. Advertising through Google is one of the many ways you can achieve that. Unfortunately, more often than not, you have to pay large amounts to keep your competitors away from those top three results in the SERPs. That's where Click To Tree comes in with the ideal solution: advertising through a second SEA channel.

You read it right: through Click To Tree's advertising channel, we advertise on your brand name. This way, you attract more visitors and leads, boost your branding, and make it more difficult for competitors to rank high among the ads. With the cumulative difference between the price you pay for your own ads and those of Click To Tree, we plant trees in Congo. Sounds good, right?

Curious about what we achieve with Click To Tree?
Learn more about our impact on the world.
01.
We analyze your original ads and determine the average cost per click.
02.
We set up a second advertising channel in Google Ads and/or Microsoft Bing. This way, your ads appear twice at the top of the search results, increasing your visibility.
03.
For each click on this ad, one square meter of forest is planted in Congo.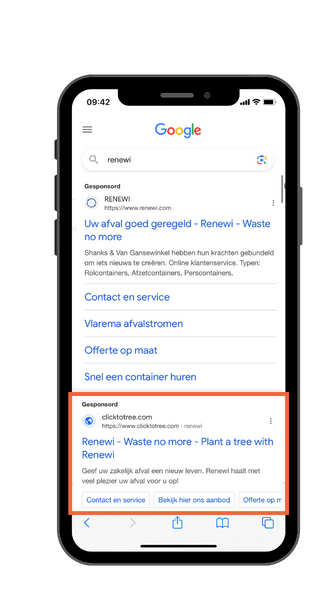 In number
With Click To Tree, we have a positive impact on your business and the planet. The following figures are the living proof!
Cases
Our cases are the greatest proof that marketing and sustainability go hand in hand. Get inspired by the great results we have achieved with our partners!